In Loving Memory of Dear Priyojit Panja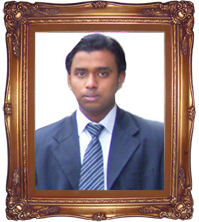 "The loss of a loved one is one of the most difficult times in any person's life."
Priyojit Panja was born on 21st April 1987 in Howarh. He was the youngest of the two sons of Mr. Samar Kumar Panja and Mrs. Rita Panja, the eldest being Parthajit Panja.
Priyaojit started his academic career at St. Thomas High School, Dasnagar. During his early years at the school, he performed credibly well and showed a remarkable promise for an excellent academic career ahead. To pursue the academic goal set by himself, he was admitted to Namchi Public School in South Sikkim. There he integrated sports, academic and culture to the well-being to an illustrious career which made him well admired by all concerned at school. When he completed his I.C.S.E (CI.-X) examination with a distinction, his hunger for academic excellence got him admitted to St Thomas Church School, Howrah.
After completing his I.S.C. With remarkable success, he joined International institute of Planning and Management (IIPM) at Delhi for BBA and MBA courses. When he had completed these courses with a high degree of success, he was, while on a campus tour , invited to deliver a lecture at the U.N.O. His spectacular and inspirational speech made him one the most widely known and deeply admired of all persons.
During his short illustrious and outstanding academic career, Priyojit had a good command of English, Hindi, Bengali, Nepali and French. The influence of his academic prowess and general knowledge earned him the respect of WALKING ENCYLOPAEDIA from among his family, near and dear ones. Unfortunately he whom god's love, dies young.
Destiny, the say, has the last laugh. On 26th June 2008, Priyojit met with an unexpected and fatal accident which took him to the heavenly abode. God wanted his loving smile and happy face right beside Him. A young man's journey with full of heartwarming promises ended on a stunning note. The passage of a loved one into the next world does not come with a warning signal to say sad farewells. Sometime it comes so unexpected, with no time even for brief goodbyes. The hardest part of this farewell was to say Goodbye, We will miss you always.
His family endured the loss of beloved son resolutely until one day idea of a school in his memory was conceived. Thus P.P. Memorial Academy is a monument of love in memory of a beloved son, a true brother and a reliable friend whom God has called to His abode with a pledge to offer affordable education to the people of all strata of society. As his loving, caring, simple and sincere nature made him a key person in the memorable moments of the entire Panja family circle, may his integrity, dedication, determination and relentless hard work continue to inspire all who pursue education through this institution.
You Will Always Be Remembered And Missed Our Dear Priyojit
"Bereaved family"